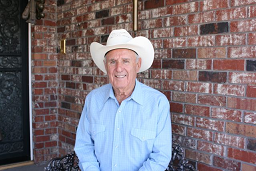 Heward Walker embodies the true spirit of the western artist. His love of the West and respect for its rich traditions is displayed in his fine craftsmanship combining earthly turquoise and silver.
Heward's silver work is extraordinary and his talent in working with raw stone has been highly regarded for years by those that have either purchased or simply admired his work.
A life long resident of Reno, Nevada, he comes from a weathered farm and cattle family. Hew winters in the warm Southwest and personally purchases turquoise slabs from the Kingman, Tonopah and Bisbee mines. His summers are spent relaxing with his family and friends, in Reno, creating at his work bench these one of a kind turquoise and silver bears.
The Navajo consider turquoise good fortune to wear and is believed to please Wind Spirit. The Bear symbolizes protection and carries great strength and courage. These brilliant turquoise bears placed in sterling twists can only bring great energy to those that wear them.